Tony Korody
Founder and President, FEP, Inc.
Tony brings more than 20 years of strategic leadership, meeting industry expertise and operational experience to FEP, Inc. Tony has been responsible for guiding FEP, Inc. to its position as a leader in the meeting industry, serving corporate clients with a unique blend of creativity and efficiency.

FEP, Inc. is an independent meeting management company headquartered in Santa Monica, California with an additional office in Portland, Oregon. It operates as a near virtual company with three CMP's and a complete operations staff. Its unique structure has allowed FEP, Inc. to grow and thrive regardless of the economic climate. We specialize in sales and training meetings as well as incentive travel programs.
Concurrent with founding FEP, Inc., Tony co-founded and served as Executive Vice President of Image Stream, Inc., an Inc. 500 company for three consecutive years and a leader in the multi-image presentation industry. At Image Stream, Tony was responsible for the operation of an 80 person company as well for producing successful meetings and new product introductions. While at Image Stream some of Tonyšs projects included the introduction of the Apple 11c for 3,500 people, the introduction of the Apple Macintosh and several ComputerLand Conferences for 2,500 people.
As an undergraduate at USC, Tony's creative and entrepreneurial energies led to a successful career as a photojournalist, and he had his first Newsweek cover in 1971. In 1973, he was invited to become one of the original members of Sygma Photo Agency, now a division of Bill Gatešs Corbis. He was a contributing photographer of People Magazine and has more than 100 magazine covers to his credit. Tony is a member of MPI and serves as a featured panelist at their annual meetings.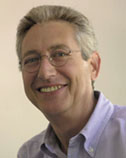 Š2001 John T. Barr